Supermicro 1U TwinPro
16 DIMMs per Node
Expansion Slot + "0" Slot
Flexible Networking Choices
Redundant Power Supply
The 1U Twin server concept provides the great benefit of reducing the rackspace required for installation of two 1U servers by half and at the same time shrinking power consumption by around 45% and substantially cutting the cable management chores since 50% less power cords are required.
The chassis and motherboards used in 1U Twin servers are uniquely designed in such way that results in a high-density solution optimal for datacenter, hosting and HPC applications.
Each server node in 1U Twin allows installation of up to 2 x 22-Core Intel Xeon (up to 145W TDP) or AMD Opteron multi-core processors and supports up to 2TB of ECC DDR4 memory.
The recent announcement of the 1U TwinPro family overcomes the single power supply limitations and makes the redundant 1000W Titanium power supply available.  Other innovations in 1U TwinPro product line add such highly demanded features as integrated SAS 12Gb/s HBA and RAID controllers based on LSI Logic RAID-on-Chip processors, 10Gb/s Ethernet and 56Gb/s Infiniband network interfaces, Disk-on-Module (DOM) support and additional expansion options like PCIe 3.0 x8 and "0" slots.
1U Twin nodes, depending on model, may have either 4 x 2.5" or 2 x 3.5" SAS or SATA disk drives or SSDs.  All models ship with advanced server management controllers and make remote server management easy and efficient.
[table id=5 datatables_columnfilterwidgets=true datatables_columnfilterwidgets_exclude_columns=8 datatables_fixedheader=top datatables_fixedheader_offsettop=90 /]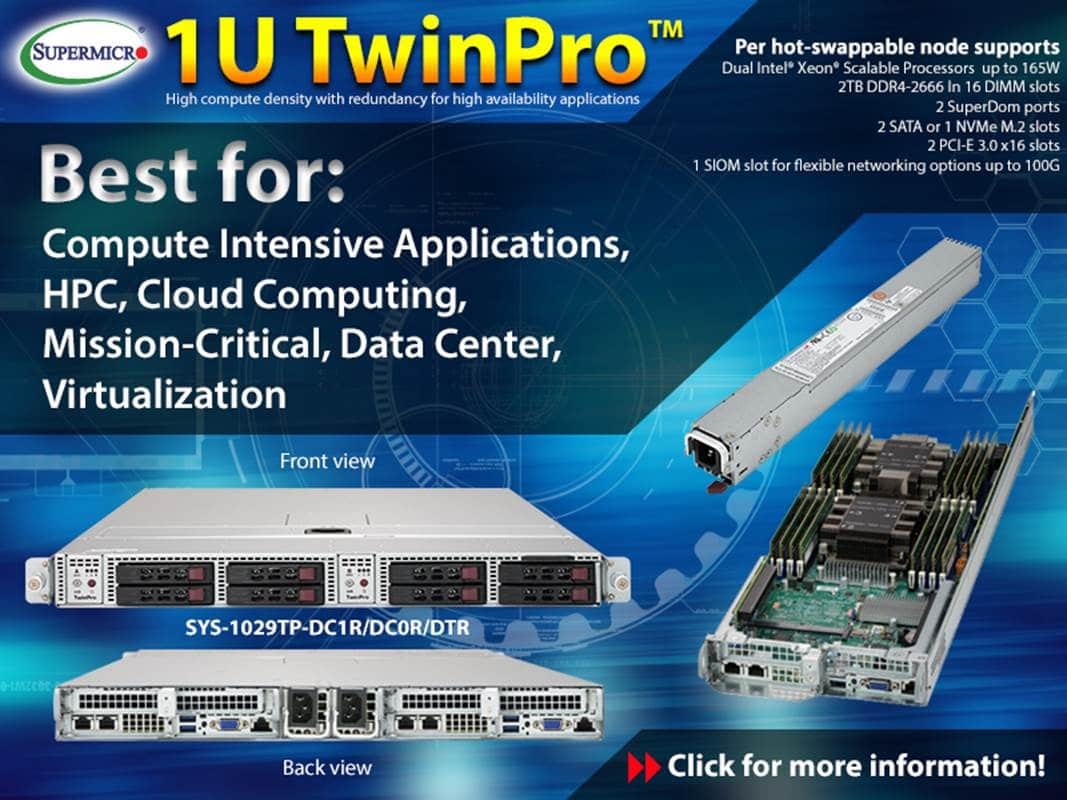 The Supermicro 1U hot-swap dual node 1U TwinPro™ family of SuperServer® systems offers the very best solution for customers who need high compute density with redundancy for high availability applications. With dual DP compute nodes accessing up to 2TB of memory, the system provides the highest levels of performance in a 1U form factor. These benefits are enhanced with the most advanced networking and storage features, including 1/10/25/50/100G Ethernet, and 4x 2.5″ SAS 3.0 (12Gbps) or SATA 3.0 drive bays per node. Availability is significantly enhanced with redundant high-efficiency Titanium Level compact power supplies.