We supply a wide range range of 1U and 2U Supermicro server systems which meet the most rigorous requirements of the modern enterprise and SMB customers.
Your choices may be based on the following central processor technologies:
Intel Xeon
Intel Atom
Intel Core i3, Core i5 and Core i7
AMD Opteron
Rack servers from Supermicro support from 1 and up to 4 x Xeon or Opteron CPUs.
You may also choose between servers with 2.5″ and 3.5″ SATA and SAS hard drives, solid state (SSD) and NVMe drives.
So that your applications never run out of memory we can equip them with up to 3096GB of ECC DDR4 RAM. This large memory support is specifically useful when you actively use virtualization technologies like VMWare or Hyper-V.
1U Server Catalog and Configurator
Supermicro rack server system configurations may include RAID controllers to protect your data and increase disk subsystem performance, multi-port 1GB and 10GB Ethernet controllers, Infiniband host-channel adapters and Fiber Channel host-bus adapters to provide connectivity to external SAN storage.
Servers may have single or redundant power supplies rated at 80 Plus and with up to 96% power consumption efficiency.  A select assortment of Supermicro rack servers may be supplied with integrated 1000 VA UPS and this will increase your rack space utilization and reduce your investment in power protection.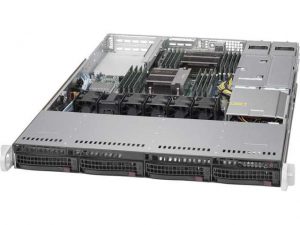 WIO (also referred to as Enterprise Servers) – 1 or 2 Xeon LGA2011R3 Sockets, 16 x DIMM slots (up to 2TB RAM), 8 or 10 x 2.5″ or 4 x 3.5″ Hard Drives.
Ultra Servers  – represent a higher class of servers featuring 2 x Xeon LGA2011 Sockets, 24 x DIMM slots (up to 3TB RAM), 1
0 x 2.5″ 4 x 3.5″ (1U) and 12 x 3.5″ or 24 x 2.5″ (2U) Hard Drives, up to 9 Expansion Slots, GPU Support and multitude of networking options.
1U MP Server – are an optimal choice for high-performance requirements in space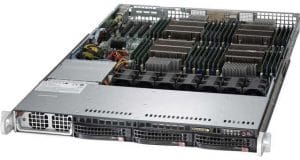 constrained scenarios.   Supermicro 1U multiprocessor servers support 4 x Xeon LGA2011 or "R" Sockets, up to 3TB RAM, 3 x 3.5″ Hard Drives.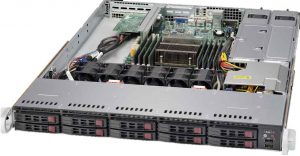 An ample selection of entry-level server systems for lighter workloads that don't require multiprocessing is readily available from Supermicro.  Based on single socket motherboards and supporting Intel Xeon E5-2600 series or E3-1200 series processors these 1U and 2U systems may be fitted with…   continue reading
Appliance – short depth, purpose built systems based on Atom and Xeon SoC (system on chip) processors and optimized for specialized applications