VMWare vSAN Hyper-Converged Appliances
Highest Versatility, Best Price/Performance in the Industry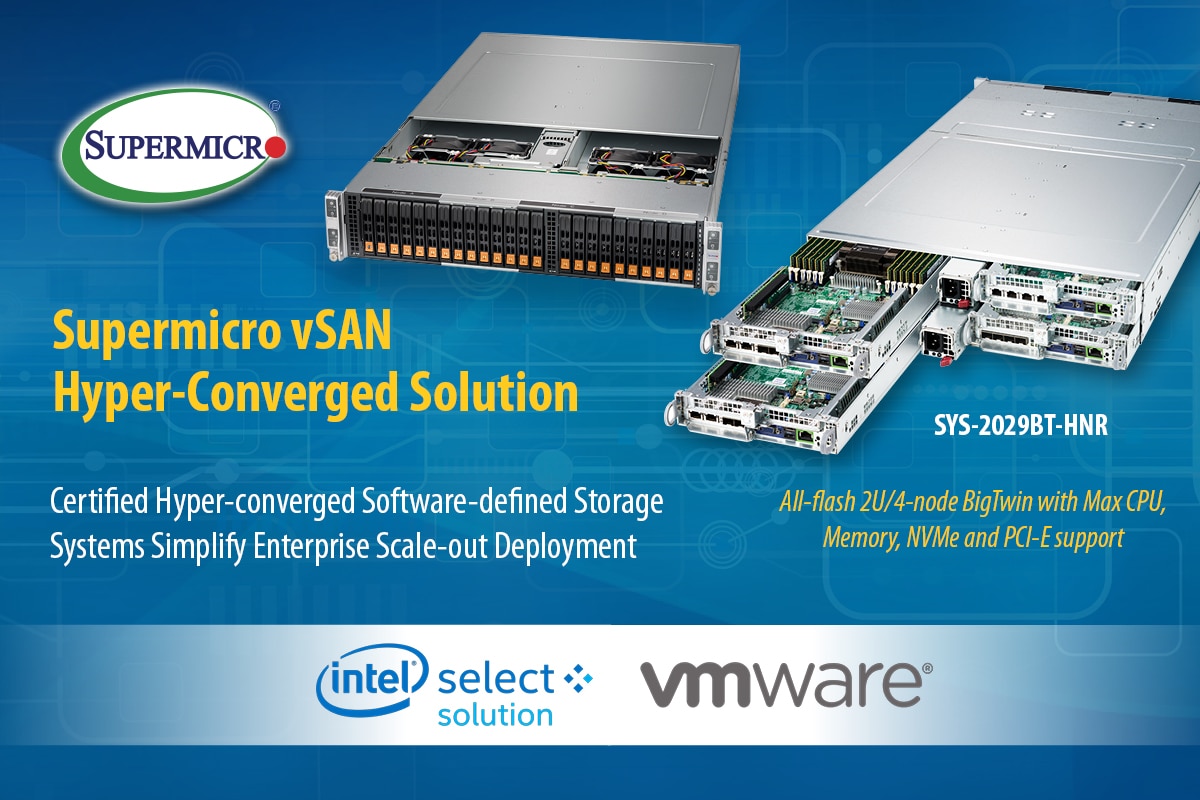 Supermicro vSAN hyper-converged solution is fully validated, tested, and certified by Intel, VMware and Supermicro, based on the industry's highest performing Twin multi-node platform, BigTwin™, powered by the latest Intel® Xeon® Scalable processors. BigTwin vSAN solution is designed for maximum density with 4 dual-processor nodes in a 2U rack space to support many virtual machines, and with up to 3TB of DDR4 memory per node, up to six all-flash NVMe drive bays per node, and a wide selection of Supermicro's flexible onboard SIOM networking modules. For customers looking for even higher storage performance and endurance, Supermicro's vSAN portfolio also includes Intel® Optane™ SSD validated systems. Using Intel Optane™ NVMe SSDs for caching helps this high-performance SDS solution accelerate storage performance up to 3X with endurance up to 30 drive writes per day (DWPD). These Supermicro VMWare solutions based on the BigTwin offer vSAN data protection for mission-critical applications. "Our new All-Flash NVMe X11 BigTwin™ solution is fully ready to deploy, and has undergone stringent validation testing and certification by Intel, VMware and Supermicro," said Charles Liang, President and CEO of Supermicro. "This Intel Select All-Flash vSAN hyper-converged solution accelerates software-defined storage, optimizes data center infrastructure, and ultimately fast-tracks the process of selecting and deploying hardware and software." This Supermicro hyper-converged solution is the result of collaborative efforts with Intel to optimize the performance for workload specific use cases. As part of the Intel Select Solutions program, which is a conglomerate of workload-optimized data center solutions designed to simplify and accelerate the process of selecting and deploying hardware and software, these Supermicro X11 solutions run on Intel® Xeon® Scalable processors. By leveraging Intel Xeon Scalable processors, this BigTwin SDS solution has higher core counts designed to support more virtual machines (VM) per node and system. With up to 3TB memory per node, All-Flash NVMe X11 BigTwin technology is ideal for in-memory database applications. Each node supports six hot-swap NVMe drives to fully maximize performance. Featuring Supermicro's flexible, cost-optimized SIOM networking module, the All-Flash NVMe X11 BigTwin supports a variety of 10G, 25G, 50G and 100G network interface options. The solution's multi-node architecture maximizes power efficiency through resource sharing for greener computing and saves customers on both CAPEX and OPEX to deliver the best TCO.
Intel VMD or Volume Management Device is a new technology to improve NVMe SSD management. Intel VMD is HW logic inside Intel Xeon Scalable processors that helps manage & aggregate NVMe SSDs.

Intel Select Solutions are verified hardware and software stacks that are optimized for specific software workloads across compute, storage, and network.