Supermicro MultiProcessor Servers
Supermicro Multiprocessor Servers
For special projects and requirements where users need very high performance and still need to pack as many servers into the rack as possible the quad and octa-socket servers from Supermicro come to service.
Supporting up to 4 Intel Xeon E5-4600 and up to 8 Intel Xeon E7-8800 series processors and up to 12TB of ECC DDR4 memory the MP (Multiprocessor) servers from Supermicro provide unprecedented CPU core per rack unit density.
Suitable for HPC (High-Performance Computing), monstrous size databases and scientific simulations MP servers are widely used across the globe by universities, oil and gas, medical, life science corporations and government agencies.
Supermicro 4-Way Multiprocessor Server Systems Certified for SAP HANA
Supermicro 2U Ultra 4-way SuperServer 2049U-TR4 is designed to support the latest Intel® Xeon® Scalable processors with up to 12TB of DDR4 memory in a density optimized 2U chassis. With 24 hot-swap drive bays including 4 NVMe enabled ports, and 11 PCI-E 3.0 slots, the new 4-way SuperServer is optimized for the following use cases:
In Memory Computing/Databases: S4/Hana, Spark, Hadoop
Real Time Analytics
SAP Licensing optimization with NVMe Dynamic Tiering
The new 4-way SuperServer is SAP Netweaver Certified with S4 HANA Certification coming in Q4 '17.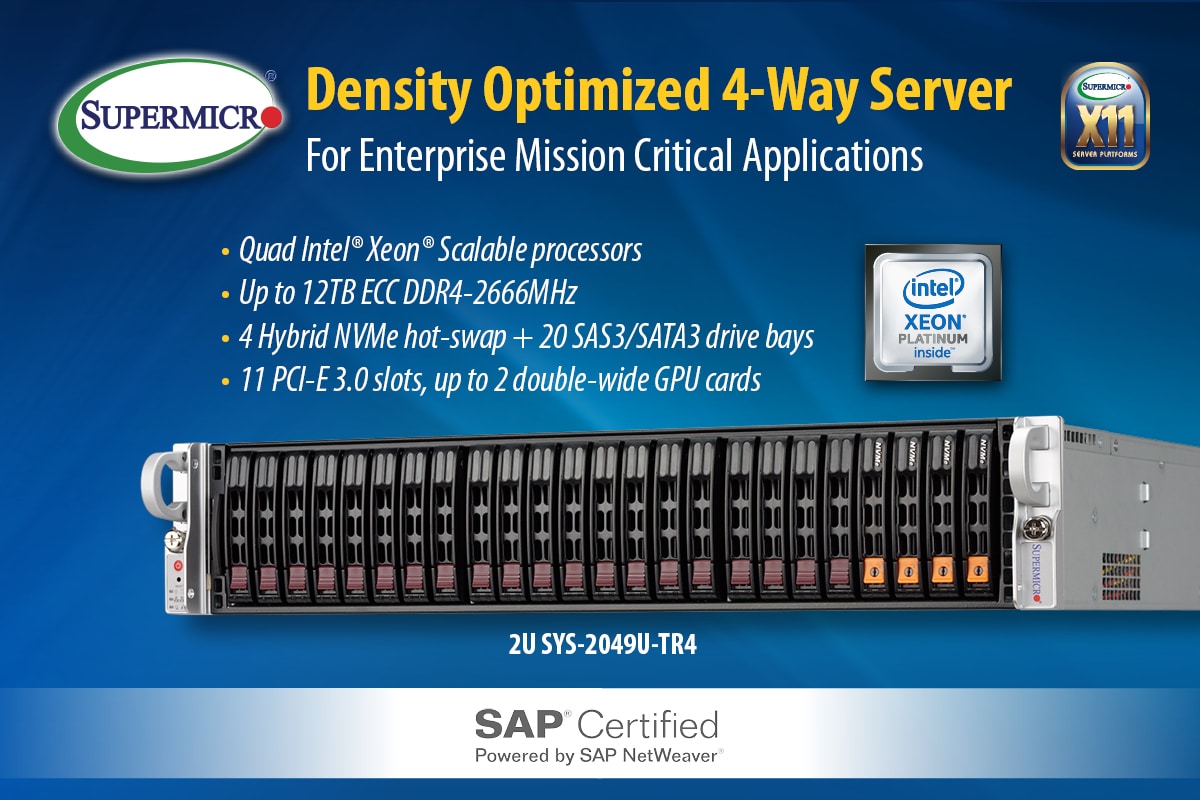 Multiprocessor Server Selector Assistant
| Model | Supported CPU | CPU Sockets | Form Factor | Memory Type | HDD Form Factor |
| --- | --- | --- | --- | --- | --- |
| SYS-8017R-7FT+ | Xeon® E5-4600 v2 | 4 | 1U | 1TB DDR3 | 3 x 3.5" |
| SYS-8017R-TF+ | Xeon® E5-4600 v2 | 4 | 1U | 1TB DDR3 | 3 x 3.5" |
| SYS-8028B-C0R4FT | Xeon® E7-8800 v3/4 E7-4800 v3/4 | 4 | 2U | 2TB DDR4 | 6 x 3.5" |
| SYS-8028B-C0R3FT | Xeon® E7-8800 v3/4 E7-4800 v3/4 | 4 | 2U | 2TB DDR3 | 6 x 3.5" |
| SYS-8028B-TR4F | Xeon® E7-8800 v3/4 E7-4800 v3/4 | 4 | 2U | 2TB DDR4 | 6 x 3.5" |
| SYS-8028B-TR3F | Xeon® E7-8800 v3/4 E7-4800 v3/4 | 4 | 2U | 2TB DDR3 | 6 x 3.5" |
| SYS-8027R-7RFT+ | Xeon® E5-4600 v2 | 4 | 2U | 1TB DDR3 | 6 x 3.5" |
| SYS-8027R-TRF+ | Xeon® E5-4600 v2 | 4 | 2U | 1TB DDR3 | 6 x 3.5" |
| SYS-2048U-RTR4 | Xeon® E5-4600 v3/v4 | 4 | 2U | 6TB DDR4 | 24 x 2.5" |
| SYS-4048B-TR4FT | Xeon® E7-8800 v3/v4, E7-4800 v3/v4 | 4 | 4U | 12TB DDR4 | 48 x 2.5" |
| SYS-4048B-TRFT | Xeon® E7-8800 v3/v4, E7-4800 v3/v4 | 4 | 4U | 6TB DDR3 | 48 x 2.5" |
| SYS-4047R-7JRFT | Xeon® E5-4600 v2 | 4 | 4U | 768GB DDR3 | 48 x 2.5" |
| SYS-8048B-TR4FT | Xeon® E7-8800 v3/v4, E7-4800 v3/v4 | 4 | 4U | 12TB DDR4 | 24 x 3.5" |
| SYS-8048B-TRFT | Xeon® E7-8800 v3/v4, E7-4800 v3/v4 | 4 | 4U | 6TB DDR3 | 24 x 3.5" |
| SYS-8048B-TR4F | Xeon® E7-8800 v3/v4, E7-4800 v3/v4 | 4 | Tower | 4TB DDR4 | 5 x 3.5" |
| SYS-8048B-C0R4FT | Xeon® E7-8800 v3/v4, E7-4800 v3/v4 | 4 | Tower | 4TB DDR4 | 5 x 3.5" |
| SYS-8048B-C0R3FT | Xeon® E7-8800 v3/v4, E7-4800 v3/v4 | 4 | Tower | 2TB DDR3 | 5 x 3.5" |
| SYS-8048B-TR3F | Xeon® E7-8800 v3/v4, E7-4800 v3/v4 | 4 | Tower | 2TB DDR3 | 5 x 3.5" |
| SYS-8047R-7JRFT | Xeon® E5-4600 v2 | 4 | 4U | 768GB DDR3 | 24 x 3.5" |
| SYS-8047R-7RFT+ | Xeon® E5-4600 v2 | 4 | Tower | 1TB DDR3 | 5 x 3.5" |
| SYS-8047R-TRF+ | Xeon® E5-4600 v2 | 4 | Tower | 1TB DDR3 | 5 x 3.5" |
| SYS-5086B-TRF | Xeon® E7-8800 | 8 | 5U | 1TB DDR3 | 16 x 2.5" |
| SYS-7088B-TR4FT | Xeon® E7-8800 v3/v4 | 8 | 7U | 24TB DDR4 | 12 x 2.5" |