Supermicro® SuperStorage All-Flash Servers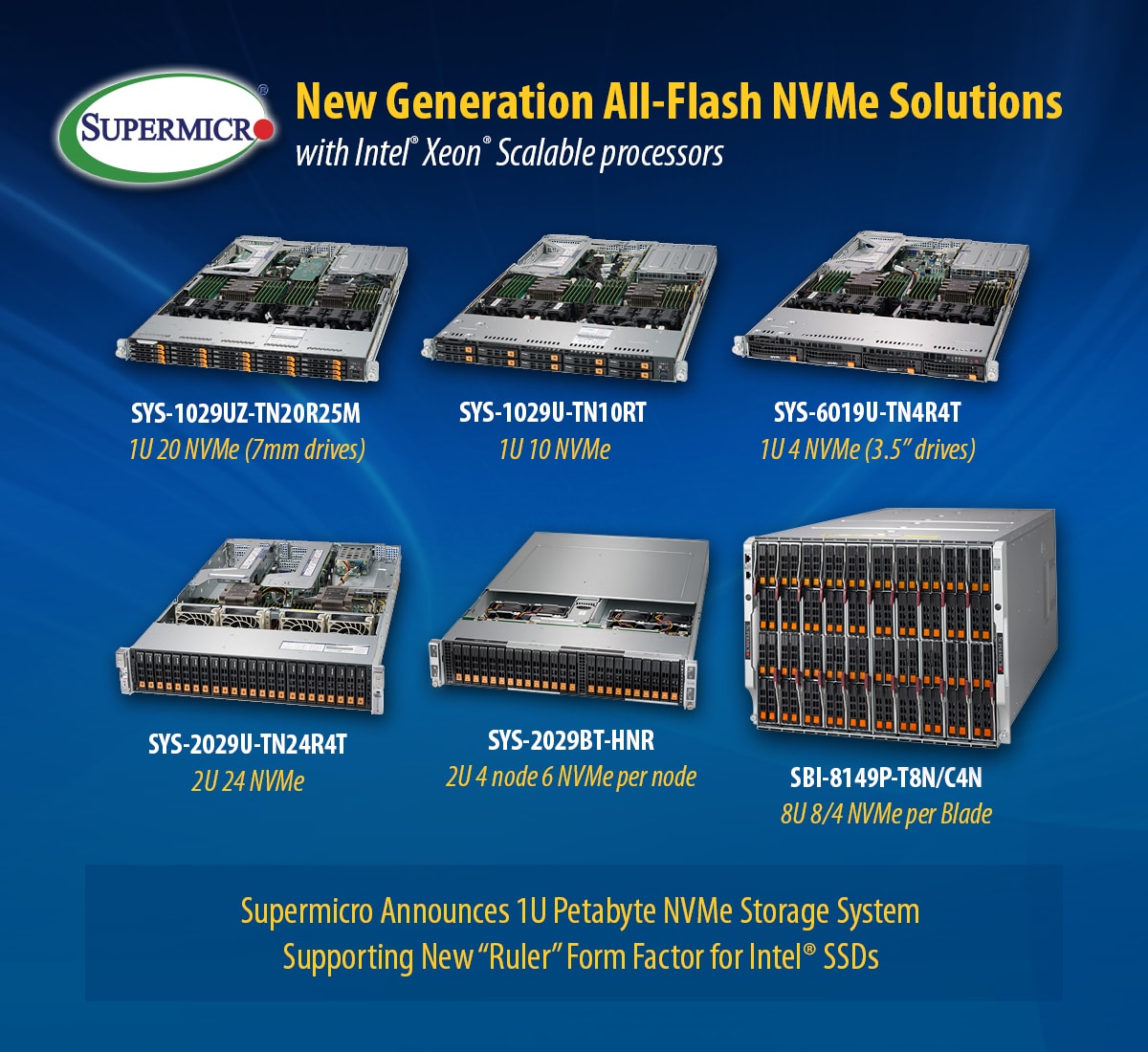 Supermicro offers the industry's widest selection of optimized All-Flash NVMe systems.  NVMe technology reduces latency, increases Input/Output operations per second (IOPS), and lowers power consumption. Supermicro All-Flash NVMe solutions will perform more work in less time which translates into lower costs and increased revenues. The new X11 generation All-Flash NVMe systems take this exceptional technology to the next level, offering even higher performance and first-to-market opportunities in Supermicro's Ultra, SuperBlade®, and FatTwin™ product lines that support the latest generation Intel® Xeon® Processor Scalable Family CPUs for up to 205W TDP.
Supermicro ships a new 1U All-Flash NVMe system developed in collaboration with Intel that will deliver Petabyte Scale Storage and 40% higher thermal efficiency. With a total of 32 "ruler" form factor SSDs in a 1U system, this new NVMe solution will provide all NVMe capacity at petabyte scale in 1U of rack space with plans to support 32TB Rulers in the near future.
Supermicro server solutions with NVMe support are targeted at Enterprise, Cloud, and Virtualization environments in a broad variety of applications.
Extreme Performance Storage Systems,  Unprecedented Versatility



SuperStorage Servers are optimized for high-performance, capacity driven storage applications which can use SATA, SAS, and Solid State/NVMe media for reliably storing block and file-level data.
In tune with the current trends in technology and business along with the demand for ever-increasing system performance Supermicro designs and manufactures a vast array of All-Flash storage products which provide blazingly fast storage for the modern applications.  Thanks to very well developed relationship with the storage industry leades such as Intel, Samsung and Micron the products from Supermicro offer extreme capacity, density and configurability.
The All-Flash configurations of the BigTwin, TwinPro, SuperStorage SBB serve as an excellent hardware foundation for such reource-demanding applications as VMWare ESXi and vSAN, Microsoft Hyper-V and StorageSpaces, MS SQL Server, MS Sharepoint Server and Exchange.
Got questions?
Call us now on phone, Skype or send us a message
+971-(52)-99-444-56
Supermicro® NVMe Systems with Intel® SSD DC P4500/P4600 Series
Best in Class NVMe Performance with 8x the Capacity and Up to 40% lower cost* ($/GB)
New Intel P4500 and P4600 Series NVMe drives bring break through price-performance to Supermicro's industry leading portfolio of NVMe systems. Supermicro NVMe Systems with Intel P4500/P4600 Series includes these key features:
Consistently High IOPS and throughput
Sustained low Latency
Enhanced power-loss data protection
Power loss protection capacitor self-test
Out of band management
Thermal throttling and monitoring
SMART health reporting
* Note: The actual cost savings may vary depending on factors such as SSD capacity.