Supermicro Single Socket Servers
Supermicro Single Socket Rack Servers
An ample selection of 1U entry-level server systems for lighter workloads that don't require multiprocessing is readily available from Supermicro.  Based on single socket motherboards and supporting Intel Xeon E5-2600 series or E3-1200 series processors these 1U systems may be fitted with fixed single or redundant hot-swappable power supplies.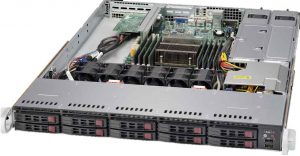 Servers based on Intel Xeon E5-2600 processors support up to 512GB DDR4 memory in 8 DIMM slots.  Models based on Xeon E3-1200 support up to 32GB of ECC DDR3 Unbuffered memory and the latest generation servers utilizing the Xeon E3-1200 version 5 aka "Skylake" processors support up to 64GB of ECC DDR4 memory. On the storage side these servers may use both 2.5" or 3.5" SAS and SATA hard drives and SSDs.
A number of models are optimized for use with GPUs (Graphic Processor Units) and support up to 3 GPUs per server.
All entry-level server systems come with dual 1Gb/s Ethernet LAN ports along with integrated IPMI server management interface accessible via a dedicated 100 Mb/s network port.
Server Catalog and Configurator