Supermicro Wide I/O (WIO) Servers
The key point in the design of Supermicro WIO Servers is their use of riser cards.  With the riser cards expansion cards are installed horizontally and this removes the 2U height limitation – it is possible to install multiple FH (Full Height) and FL (Full Length) expansion cards in the server.  With the proper expansion card brackets it is also easy to install LP (Low Profile) expansion cards in the server.  WIO servers are designed to run enterprise applications like databases, messaging server applications, heavy load web servers.  WIO servers utilize to the maximum the Xeon dual socket architectire, PCI Express bus and the lates chipset instruction logic to run the applications fast and reliably.  In the heart of WIO design you see a special form factor motherboard and chassis which provided for increased expandability of the system.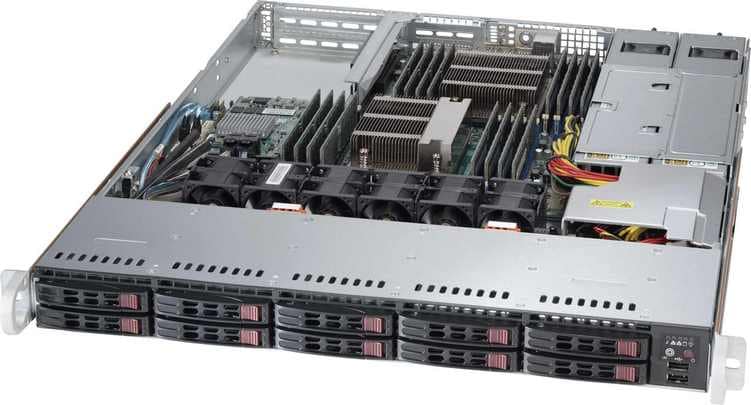 WIO servers typically support 3TB of ECC DDR4 RAM in dual socket models  and 1512GB of ECC DDR4 RAM in single socket models.  This large memory support is specifically useful when you actively use virtualization technologies like VMWare or Hyper-V.
Server system configurations may include RAID controllers to protect your data and increase disk subsystem performance, multi-port 1GB and 10GB Ethernet controllers, Infiniband host-channel adapters and Fiber Channel host-bus adapters to provide connectivity to external SAN storage.
Servers may have single or redundant power supplies rated at 80 Plus and with up to 96% power consumption efficiency.  A select assortment of 1U servers may be supplied with integrated 1000 VA UPS and this will increase your rack space utilization and reduce your investment in power protection.
The most popular models of Supermicro WIO servers in the current product lineup are:
Catalog and Configurator for 1U WIO Servers
Catalog and Configurator for 2U WIO Servers